Consumption Tax Increase in Japan
The consumption tax in Japan was capped at 8% for a little while, but it is due to increase!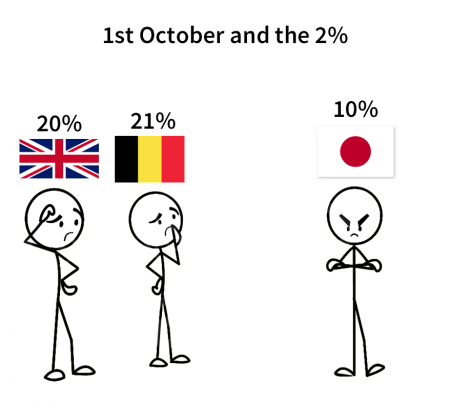 The economically minded people can check this article read the Japan Times article about it.
But for the rest of us we have the following to say about it and the effect that it may have on you personally…yes you personally:
As you may know, the consumption tax (sales tax) in Japan will rise from 8% to 10% on October 1st, 2019. Normally, this would mean that we have to raise our prices by 2% as well. However, GenkiJACS has decided to keep offering our Japanese courses at their current prices until the end of 2019. This means that anyone booking between October 1st and December 31st this year will in effect be getting an almost unbelievably massive 2% discount! GenkiJACS will pay the additional sales tax ourselves.
One more reason to book your Japanese language learning course with GenkiJACS before the end of 2019! So here is the link to the first step
Please note that our Japanese study program prices will rise from January 1st 2020 to reflect the sales tax increase.
Though we can't control what the government does, we can at least control the way we react to it. The consumption tax increase in Japan is just something we have to deal with and we don`t want you to have to worry about it. All our updated prices for 2020 will include the consumption tax increase as well, so you do not have to use a calculator every time you make a decision.
Once again, we thank you for all your support and wish you a warm Autumn/Fall. We hope that the upcoming holidays are not causing too much stress!
Yours,
GenkiJACS