|
I would like use this entry as an opportunity to introduce myself on the blog. I will be continuously updating the blog for the next few months as I participate in an internship with GenkiJACS.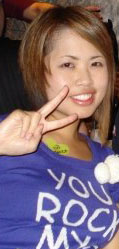 My name is Clarice and I`m from Calgary, Canada.
I`m 23 (24 next week) and I studied in GenkiJACS from Sept-Dec in 2008. In December, GenkiJACS posted an advert for an internship position so I decided to quit my job in Canada to come back on a working holiday visa. I`m actually a software engineer but I will be helping the school with various things such as website work and graphic design.
I`ll try to update often with interesting things about the school, Fukuoka, and Japan. If there`s anything you would like to read here, please let me know!^^
よろしくお願いします★