Fukuoka Michelin Guide 2014
|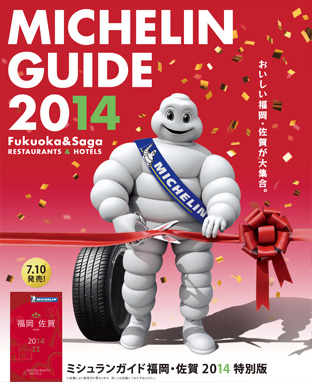 The Fukuoka & Saga edition of the famed Michelin guide was released this summer, and it confirms what we've always thought – Fukuoka has an embarrassment of great restaurants!
There are two three-star restaurants in the city, the sushi restaurant Gyoten, and the traditional Japanese restaurant Sagano. Neither is cheap, of course, but both offer the pinnacle of Japanese food, and should be a wonderful experience. We say "should be" because we haven't had the good fortune to eat at either of them yet. Any students who want to treat the teachers to dinner, don't be shy!
There are another eight two-star restaurants in the city, and a massive 20 one-star restaurants, as well as a lot of honorable mentions. Many of these are not too expensive, and fairly relaxed, so they can be a good introduction to high-end Japanese dining, if getting a reservation at one of the three-star restaurants proves too difficult. いただきます!
The guide itself is on sale at bookshops, and of course Amazon.