Genki Japanese School receives Excellence Award 2012
|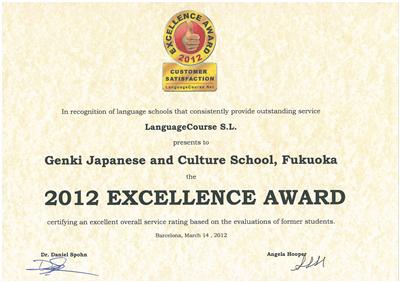 We are proud and humbled to receive an Excellence Award for 2012, our 4th consecutive year of receiving this award! The award is based on evaluations of the school by former students, and is done by Languagecourse.net, an independent third party. We're so happy to hear that our students enjoyed their study with us, and have consistently given us the highest rank of evaluation.
From Languagecourse: "Only the very best schools receive the Excellence Award … The feedback of your clients showed that your school did excellent work in providing satisfied customers throughout the last year."
We look forward to satisfying students for 2012, 2013, and possibly the rest of time!