GenkiJACS receives LTM Star Company Certificate!
|
We were presented with our Star Award certificate from Language Travel Magazine today!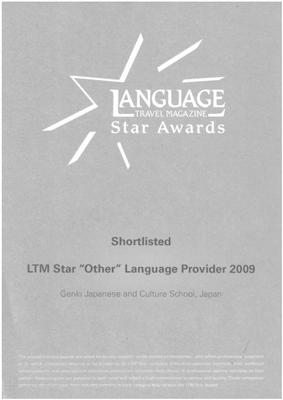 It's a lot shinier in real life!
The text of the certificate is below:
Language Travel Magazine Star Awards
Shortlisted
LTM Star "Other" Language Provider 2009
Genki Japanese and Culture School, Japan
The annual industry awards are voted for by our readers – study abroad professionals – and reflect professional judgment as to which companies deserve to be known as an LTM Star company. Education agencies nominate their preferred school partners and international education institutions nominate their choice of professional agency overseas as best partner. Reasons given are personal to each voter and reflect a high commitment to service and quality. Those companies gathering the most votes from industry partners in each category duly receive the LTM Star Award.