GenkiJACS X'mas Party '07 !!
|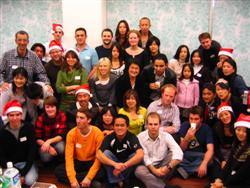 先週12/14(金)(アップが遅くなりましたが・・・)、ちょっと早めの"GenkiJACSクリスマスパーティー"を開催しました。50人もの生徒、ホストファミリー、そしてスクールスタッフが集い、楽しいひと時を送りました。来年はもっと多くの方々にお会いできることを祈りながら、みな様にメリークリスマス!!
Last Friday, Dec. 14, we had a X'mas party at our school. 50 people( host families, students and school staffs) gathered and enjoyed the party.
We hope that next year, we have more people and more fun!
To everyone, merry chrismas and a happy new year!