|
Today is the third interview, introducing another student.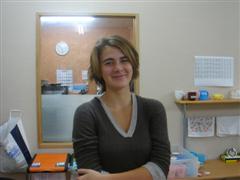 Q.Your name?
A.Janna
Q. What were your reasons for coming to Japan?
A.Nothing in particular
(To improve her Japanese, maybe?)
     
Q.What do you like about Japan?
A.Japanese culture
 –Especially history, it seems (not American, longer histories are better)
    
Q.Where are you from?
A.New Hampshire, America
 –In the northern part of America
A closing message:
Thank You!
Janna-san was very cute and shy, with short hair and a smile. I was shy during the interview too.
Janna-san, thank you very much!!
[
Link to the original entry
]