Japanese vending machine attack!
|
No streetlights? No problem. Vending machines will light your way…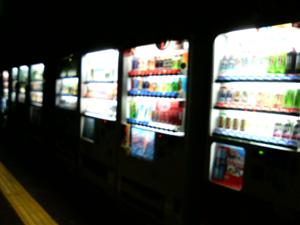 Stretching as far as the eye can see! In Japanese, vending machine is 自動販売機 which is another great example of kanji that can be understood even if you don't know how to say them. To break it down:
自: ji, meaning onself
動: dou, meaning to move
自動: jidou: to move by oneself – hence, automatic!
販: han, meaning marketing
売: bai, meaning to sell
販売: meaning sales
機: ki, meaning machine
So, a 自動販売機 is an automatic sales machine! There, wasn't that easy?