|
Today was our much loved staff member, Mai-san's last day with us. She will be moving to America with her husband and daughter in the near future!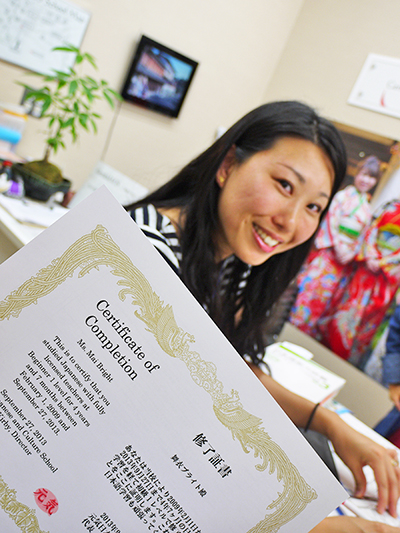 At the graduation ceremony, she was presented with her very own certificate for completing Beginner 1 level Japanese at GenkiJACS. We hope she'll be coming back to "study" with us again in the future!
Many tears were shed when Mai-san read the lovely speech she wrote. For those students who were with us before and couldn't be here to say goodbye to Mai-san, we've written her speech down here for everyone to read:
"Hi, my name is Mai.
Today is my last day working for GenkiJACS. It has been 4 and a half years since I started working here, and I always saw students leaving on Friday, but today it is my turn to say goodbye to you all.
I love GenkiJACS so much that I never thought about not coming to work. It was an honor to serve each and every one of you. I enjoyed seeing you progress in your language abilities.
This job has been a blessing and I'll never forget any of you. You have made my time here the most wonderful experience in my life.
GenkiJACS is a key that connects us in the world. Good luck with your study and enjoy your stay in Fukuoka.
From the bottom of my heart,
Thank you so very much!"
Thank you for all the hard work, Mai-san! We'll miss you very much!
There are a few more photos up on our Facebook.