|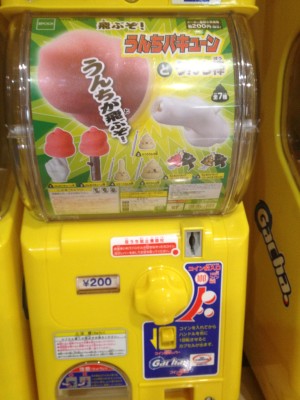 Continuing our theme of poop-related posts, we present a ガシャポン ("gashapon", small toy in a capsule sold in vending machines) from the local shopping center. Each machine usually sells a variety of cheap toys on a theme, to entice children who try to convince their parents to buy it for them. Kids won't know which exact toy they get until they open the capsule.
This particular machine sells foam poop on a stick or, if you're lucky, a finger. As it says, うんちが飛ぶぞ! ("unchi ga tobu zo!", the poop flies!).
Japanese people in general do seem to have less of a negative association with poop than in some other countries. People will talk about their bowel movements with co-workers, for example. It's refreshing to be so open about a usually closed topic!