Nippon versus Nihon versus Japan
|
It often takes foreigners in Japan a while to distinguish between the two ways of pronouncing the name of the country itself, "Nihon" and "Nippon". First of all, they are two different ways of reading the same kanji. So how do you know which to say when you see those kanji?
"Nihon" is the standard reading, and much more commonly used. It doesn't really have any overt nuance.
"Nippon", however, has that hard "p" sound in the middle, which makes it sound a lot stronger, and harder, than the somewhat breathy "Nihon". As a result, "Nippon" is used when you want to add emotion or strength to the name. So, for example, at sporting events people will chant "Nippon". It's used when people want to show their love or feeling for Japan. It can also have nationalistic overtones, when used by ultra-right wingers as they broadcast from their black vans.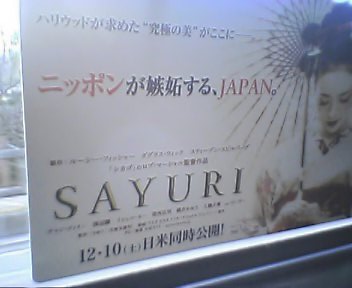 Or, it can be used as in the image above, to remind people of an older Japan. The clever tagline on this poster for the film "Memoirs of a Geisha" (or, in Japan, "Sayuri"), is this:
(Japanese) Nippon ga shitto suru Japan
(Direct translation) Nippon [subject] jealous does Japan
(English) A Japan to make Nippon jealous