GenkiJACS – Once the lockdown is lifted
Once the lockdown is lifted
As the world is showing the signs of picking up speed and waking up from the COVID-19 pandemic lockdown that affected all of us, we feel it may be an excellent time to fill you on what is happening in Japan. What we have done, are doing and will continue to do, to make sure that we are providing the best possible Japanese language learning experience.
Online Lessons
Japan, like the rest of the world, had to introduce several rules and regulations to ensure public safety. Strict quarantine can`t be enforced in Japan, but most businesses followed the rules and suspended their operations or moved their work online. We markedly less crowded streets. Fewer people commuted to work, and more people worked remotely, which helped the country`s recovery. Here at GenkiJACS, we moved our classes online for the students in Japan and have introduced online lessons for those residing outside of Japan. We wanted to show that learning does not have to stop even if the world has to take a pause and regroup.
We arranged for our
Private Lessons Online
and
Group Online Lessons
to be as flexible as possible and to provide you with an opportunity to enjoy GenkiJACS`s quality learning no matter where in the world you are. It was a learning experience for all of us and we want to thank all of our students who made it possible. We will take what we have learned and use the knowledge to improve our service further.
End of the Lockdown
No matter where in the world you are, the news is spreading pretty quickly! The lockdown and quarantine rules are slowly becoming a little more relaxed with some governments reporting that some lockdown measures may be lifted at the end of May!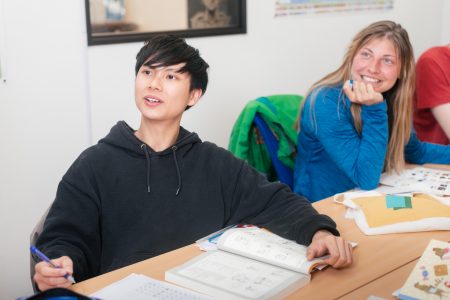 Japan has recently softened the lockdown in some areas of Japan, and we expect for the lockdown to be effectively over by the beginning of June. Still, we are happy to say that we opened our Fukuoka and Kyoto schools for in-person classes from the 18th of May and our students are back in class! We are planning to resume in-person classes on the 1st of June in Tokyo. So after this turbulent period is over, we will be happy to get back to school and seeing you in person! Please don`t worry, we will keep the highest health and safety standards we can to ensure that our students feel safe returning to school! We want our students to concentrate on studying, rather than worrying.
And the good news is that we are continuing our online courses even after the world is back to normal. So if you want to study with us online, you are welcome and encouraged to apply. Learning languages makes the world more open, which makes your will to study Japanese even more important as we all need to help the world open up.
New Application Forms
Our on-site, in-person lessons are, of course, going to run, and we are happy to say that we simplified the booking process. If you know which one of our schools you want to study at: Fukuoka, Tokyo or Kyoto, you can fill out our new application forms! The beginning of 2020 taught us that we can`t predict everything, but there is one thing that we want you to be sure about:
There is so much to look forward to in the coming year, and we hope that you will look forward to the future as well! See you soon!