Online Video Chat Lessons
|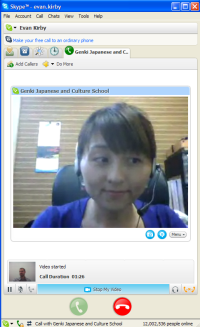 GenkiJACS has (finally!) started online lessons. Former students have been asking for this for the last couple of years – sorry it took so long! Currently we support the four major software choices, including of course Skype, but we're willing to use other services too, if there's demand.
Pricing is two-tiered: 3000 yen per class for new applicants, or 2000 yen per class for anyone who has studied at our school before or is registered to do so. Everybody gets one free trial lesson too, so you might as well give it a try!
Detailed info is here.
The major sticking point, of course, is the time difference. If you're in the UK, for instance, we're only online for you between 1:30am and 11am, so it might be tough to schedule a lesson. We're looking at adding classes on the weekend or later in the evening for us, so if you'd like us to do that, drop us a line and we'll see what we can do for you!