|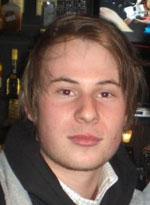 SEBASTIAN
Age: 20
Length of Study: 3-5 months
Japanese Level: Beginner
From: Innsbruck, Austria

1.Why did you choose GenkiJACS?
I read on the Internet that GenkiJACS was one of the best schools for foreigners in Japan, and especially in Fukuoka.
2.How was your first day of school?
I was confused that they gave me this soup to try (he came on New Years so he got to try a new years dish called zouni)
3.How much have you improved since you arrived?
It`s been a month and I`ve improved a lot. I was a complete beginner but now I can read hiragana, read simple sentences, and have conversations.
4.What will you do with your Japanese after you finish with GenkiJACS?
I don`t know yet exactly, but I`m going to keep studying it in university.
5.What do you do during your free time?
Doing homework at school, Skype with friends and family, and go out on the weekends.
6.What is your favorite Japanese snack/food?
Tonkotsu ramen with gyoza
7.What is your favorite Japanese drink?
Hot sake
8.What is your best school memory (so far)?
Going out to Fubar and having nomihodai (all-you-can-drink)
9.What is something unexpected you found out about Japan?
nomihodai
10.Top 3 tips for future students?
– Learn hiragana
– Try to speak as much Japanese as you can
– Be open to everything