Student interview project – Yuuki Mori
|
Some of our more advanced Japanese language students at Fukuoka school were given quite a challenging project this week!
The class was split into group, and each group told to interview one of our GenkiJACS staff members.
The groups were:
1. Students Andre and Fridtjof, interviewing staff member Kayo Hisakawa
2. Student Stefan interviewing staff member Yuuki Mori
3. Students Eva and Anna interviewing a staff member from LC Box Apartments.
The tasks they were given included coming up with all the questions, interviewing the staff members, and then putting the interview into writing, all in Japanese!
Here is the first interview: Student Stefan interviewing staff member Yuuki Mori
——————————————
去年12月にGenkiJACSで働き始めた大分県の郊外にある玖珠町出身の森勇樹さんにインタビューをさせていただきました。
GenkiJACSの前はどんな仕事をしていましたか。
佐世保のSubwayっていうサンドイッチ屋さんでサンドイッチを作っていました。沖縄のアメリカ軍基地の中で派遣業の仕事をしていました。その後長崎では、塾の英語の先生をしたり、バーで働いたりしていました。
外国語の勉強を始めたきっかけは何ですか。
高校を卒業するときに本当はファッションの学校に行きたかったんですよ。「ファッションの学校に行きたい」と言ったら、両親と兄弟、皆からやめてくれと言われました。「他に何をしようかなあ」と思っていたときに、とりあえず「かっこいいこと」をしたいと思いました。英語をしゃべるのは「かっこいい」と思って、英語を勉強しました。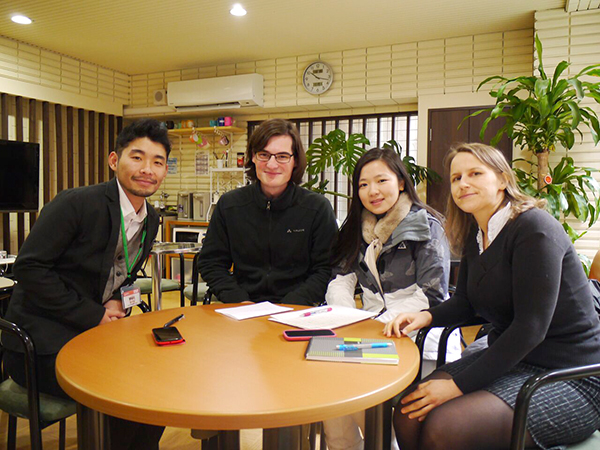 海外経験を教えてください。
大学生の時1年間交換留学生としてアメリカのニューヨークにいました。でも、ニューヨークシティじゃなくて、すごい田舎です。(笑)
どうしてGenkiJACSで働きたいと思いましたか。
今まで人生でずっと英語を使う仕事をしてきて、福岡に来てもやっぱり英語を使う仕事をしたいと思って探したんですけど、福岡は他の所と違って英語を使う仕事はたくさんありますよ。そのときにGenkiJACSが募集をしてて、GenkiJACSのホームページを見たら、とっても楽しそうで、学生も楽しく勉強していたから、こういう皆がハッピーな所で働きたいと思いました。
休みのとき、何をしますか。
今シェアハウスに住んでいるので、帰ったらシェアハウスのハウスメートと一緒に過ごしたり、アウトドアが好きなのでキャンプに行ったり、夏は海に行ったり、バーベキューしたりします。
GenkiJACSの学生に送りたいメッセージがありますか。
自分も言語を勉強してきて、教科書をずっと見て、ずっと書いてっていう勉強も必要だけれども、人とコミュニケーションが取れたほうが面白いと思います。GenkiJACSはコミュニケーションがたくさん取れるので、どんどん日本語をしゃべって、楽しい思い出を作ってください。そして、また、いつか日本に戻ってきてください!
国際交流に興味があるかっこいい森さんに会いにGenkiJACSにきてください。森さんが作ったカクテルを飲みながら、いろいろな経験について日本語ではなしてみませんか?(^^)