|
Summer is here at last! Rainy season officially finished last week, and this weekend was a scorcher!
In honor of this wonderful season, here is a picture of Momochi beach, one of the main beaches in the city.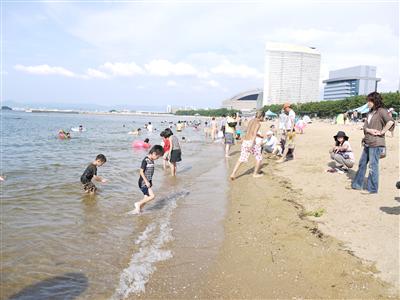 This beach is only 15 minutes from Genki Japanese School, so you could be there 15 minutes after your classes finish! Here's how to get there from school:
– by bicycle: 15 mins
– by car: 15 mins
– by bus: about 20 mins. Walk to the Tenjin Kita bus stop on Watanabe-doori, then take a 305 bus to Fukuoka Tower (15 mins, 220 yen)
– by subway: about 30 mins. Walk to Akasaka subway station, buy a 250 yen ticket, and take any train at platform 2. Get off at Nishijin Station, then walk towards Fukuoka Tower (an easy-to-find landmark!).
See you at the beach!