|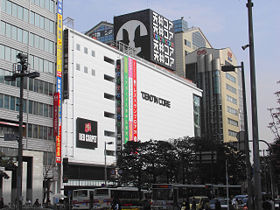 For those who want to go shop for the latest Japanese teen/young adult fashion,
Tenjin Core
is the best place to go in Fukuoka (though it really cannot be compared to any of the equivalents in Tokyo). Located at the heart of Tenjin (right across the Tenjin bus/subway/train exits), it's a positively bustling place on weekends. Famous brands from Tokyo such as moussy, Cecil McBee, Liz Lisa, and Egoist have shops here. There is also a Shibuya 109 men's section.
There are a few things that annoy me about shopping in these places in Japan though. First, expect the staff to target you and stick to you like glue until you buy something. For example, whatever item you are looking at, they will start saying how 'kawaii' it is, mention every detail of the clothing, and rummage two or three other items that would match with it. It's hard to shop in peace! Secondly, most of these brands have little or no sizing. A medium in North America would be considered large size in Japan, and many brands do not have a large. Which leads to the next problem- many brands will not let you try on new or popular items, and it ends up being a gamble.
But, even so, I love shopping (or window shopping) there! If you follow Japanese fashion magazines (Vivi, CanCam, etc.), you'll find all the outfits there 🙂