What the heck does 'Pacman' mean, anyway?
|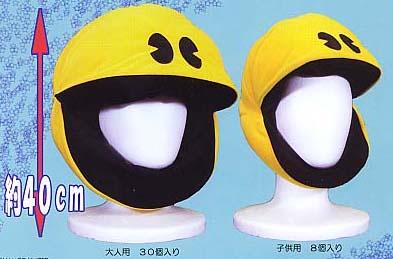 Just a short post today, but a golden piece of trivia: Did you know that the name Pacman comes from Japanese? In Japanese the 擬音語 (giongo, onomatopoeia) パクパク (paku paku) means to eat in big bites, or to eat quickly. So パクマン (pakuman) is someone who eats fast without chewing much!
Example sentence: 昼休みは30分しかないけん、みんな毎日パクパクと食べる。
Hiru yasumi wa san juppun shika nai ken, minna mainichi paku paku to taberu.
We only have a half hour for lunch, so everybody gulps their food down.
Breakdown:
昼休み: hiru yasumi, lunch time. Literally, "midday rest"
30分しかない: san juppun shika nai. Literally, "there is only 30 minutes"
けん: ken. A hakata-ben (link to hakata-ben intro) word meaning "so", an informal replacement for "ので" (node)
みんな(は): minna (wa), everybody. As this is an informal spoken sentence, the particle は (wa) can be omitted.
毎日: mainichi, every day
パクパクと食べる: paku paku to taberu, gulp one's food down. As with a lot of 擬音語, it's connected to a verb by the particle と (to). In this way, it functions basically the same as an adverb in English. So, a direct translation would be something like "to eat hastily".
パクパク can also often be seen in manga, as the written sound effect for a person chewing hungrily.
So now you know, it's not just a goofy name for a little yellow ball, it's actually the Japanese equivalent of calling him 'Gobbleman'!
Still doesn't explain why Ms. Pacman wasn't just called Pacwoman, though…
And for those of you who are wondering, the pic above is plundered shamelessly from National Console Support Inc., proud retailers of the Naruto v2.0 plushy, among many other fine products…