|
This week`s interview is from Ben, also a friend from when I was a student here last year. He`s leaving in a few weeks, unfortunately, because he`s one of the funniest guys I have ever met. I`m thinking of making every Monday an interview post. If you`re arriving soon or are already at school, prepared to be interviewed!! (or offer it to me because that makes my life easier ;D)

BEN
Age: 29
Length of Study: 5 months
Japanese Level: Beginner->Advanced Beginner
From: Germany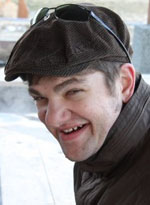 1. Why did you choose GenkiJACS?
I searched the Internet, read some online reviews, and got some information from my travel agency.
2. How was your first day of school?
I couldn`t remember anything and couldn`t write any hiragana. I was very shocked.
3. How much have you improved since you arrived?
100%. I started at 0 but now I can speak it.
4. What will you do with your Japanese after you finish with GenkiJACS?
I plan to use Japanese in my work in the future, either in Japan or back at home.
5. What do you do during your free time?
STARBUCKS! Spending money! Getting poor!
6. What is your favorite Japanese snack/food?
89¥ snacks from Daiei (supermarket)
7. What is your favorite Japanese drink?
Beer
8. What is your best school memory (so far)?
Going out with friends
9. What is something unexpected you found out about Japan?
Japanese people speak less English than I thought
10. Top 3 tips for future students?
– Bring your own central heating (it`s cold in the winter)
– Get used to showering in the evening
– Be prepared to dodge dangerous bicyclers