|
Fukuoka is the birthplace of many famous people, and some of my favorite Japanese music artists are from here. I would like to introduce some of them from time to time.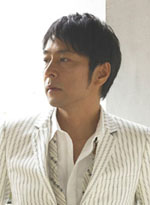 Hideaki Tokunaga, born 1961, has been in the music scene since the mid-80`s, most famous for his light melancholic voice coupled with soulful love ballads. I think he might be rather shy, because he doesn`t say much on music shows, even when the hosts are trying to rile him up. He is originally from Yanagawa in the Fukuoka prefecture.
In 2006 he debuted in NHK`s Kouhaku, singing his most famous song, 壊れかけのRadio. Incidentally, that`s when I first noticed him, and I fell in love with the song instantly. It`s a song about reminiscing one`s youth, and I think it matches perfectly with his voice.
Some of his other famous songs include Rainy Blue and 輝きながら…. He released a couple of singles last year as well. For more information, here is his official website.
He was actually in Fukuoka performing this last Sunday, but it was sold out 🙁