Epayments take off in Japan
|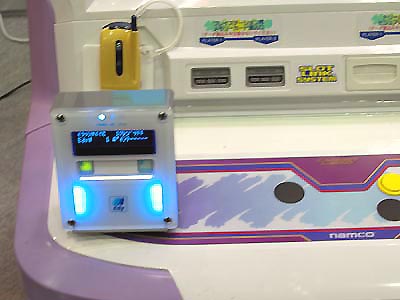 Virtually all of the new cell phones in Japan these days have some kind of electronic wallet function built into them. These ewallets allow you to charge your phone at special "reverse ATMs", and at locations such as convenience stores. Hand them your money, say 「チャージして下さい」("Chaaji shite kudasai", "Charge it, please"), and put your phone on the terminal beside the cash register, and they'll top up your ewallet with no transaction fees.
Using the ewallet is also simple: First find a store that supports epayments (mostly Edy, which runs the FeLiCa system created by Sony). When you make your purchase, say 「エディでお願いします」("Edy de onegai shimasu", "With Edy, please") and put your phone on the terminal, and a pleasing "ka-ching" sound will tell you that your money's been debited.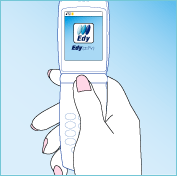 The phone itself has an application that lets you view a record of all your transactions, as well as your current balance, and to send and receive money from other people. Perhaps the two most important points in getting general acceptance for this new technology have been that 1) it's included by default on almost all new cellphones, and only takes a couple of minutes to set up, and 2) there are currently no transaction fees for any part of the service.
Of course, finding shops that support it is not yet as easy as it should be. For example, of the 7 or so convenience store chains servicing Fukuoka, only AMPM and Poplar currently use Edy. For those who are interested, here's a list of all the stores in downtown Fukuoka that use Edy epayments (193 stores at time of writing, including some hotels, karaoke shops, clothing stores and more).
Just recently some companies have started offering entirely electronic credit card services, aimed at these Edy cards. In this case, the phone works just like a credit card, allowing you to make purchases without charging the phone in advance, and pay for them later.
Of course, losing your phone becomes a much bigger problem when it is also your wallet and credit cards. So most phones have an option to lock the ewallet feature automatically. To use it, you have to enter a numeric password, which makes it a little less easy to use, but gives a lot more peace of mind. It's also possible to access your cash online from a regular PC, and to transfer your balance to a new phone if necessary.
The IC chip inside these phones is starting to be used for other useful services too.
– Docomo now has the "Toruca" service, whereby your phone can act as your member card for participating stores. So, instead of needing to carry around a wallet full of discount cards for each shop you visit, everything can be stored electronically.
– The "Suica" system lets you pay for JR train rides by running your phone over the sensor at the station.
– Some of the latest "C-mode"-equipped vending machines from Coca-Cola let you pay for your drink with your phone, and earn "C-points" at the same time, progressing through "C-ranks" until you reach the level of "C-master", or something like that.
– JAL offers entirely automated check-in. Just touch your cellphone to the reader on one of their check-in machines, and your ticket for that day's flight will be printed out for you.
– If your apartment or office building is brand new, it may just support keyless entry by cellphone! This service also can alert you by email when someone enters or leaves your apartment (and if they also use the service, it can tell you who!).