FILE Club's Nokonoshima treasure hunt
|
Last weekend, Genki JACS students were invited along to a fantastic FILE Club get together at Nokonoshima where we played games and had delicious grilled food. FILE Club even sent a member to pick us up at the school Sunday morning, and escort us to the ferry port where we sailed to Noko island.
Sam led us all in a few name games to get to know each other, then we were split into teams and sent off to find 7 mystery locations on the island and capture them on film. Finding the exact same shot captured in film on our list of tasks was interesting, but by using the clues and friendly residents on the island, we all made it back in time for BBQ near the port, and burgers, sausages, and vegetables were grilled with fresh fruit and potato crisps.
FILE Club members come from all over the world, and after lunch we spent a few hours chatting and talking with people from various locations, getting to know each other before we played a few last games and did a bit of mental magic. Fabien, Ginie and myself were there from Genki, along with 15 or so members from FILE Club. FILE Club will have another outing in a few weeks time teaching outdoor cooking. Inquire with Sam at File Fukuoka on Facebook, or
their website
.
Thanks to John from FILE Club for all the pictures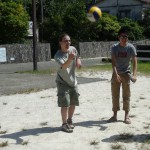 John captured an action shot of the name games.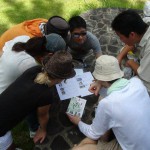 Ginie's team plans strategy before hunt begins
.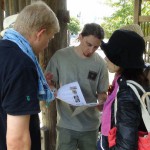 Fabien and I looking a bit lost with our team.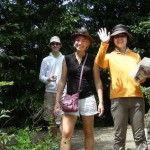 and the victors look like they are having fun!

The Ferry from Nokonoshima