|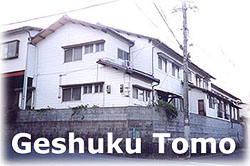 Details are already up on the accommodation pages of our site, but we though it might be good to mention here too that we've recently acquired the use of two dormitories for our students. These are dorms in the city itself (closer than a lot of host families) used mainly by Japanese university students. They are also somewhat cheaper than staying with a host family, at 10,000 yen per week without any meals, or 12,100 yen per week with breakfast.
We recommend them in a lot of cases, as they are a great way to meet a large number of young Japanese people, make a lot of friends in a short time, and have a great fun experience in the city. Unlike a host family, the dorms don't have a curfew, so you're free to come and go as you please, or stay out overnight if you like. The largest of the dorms we use, "
Geshuku Tomo
" has up to 40 students staying there at a time, so you're sure to make some friends! It's also only a 25-minute bus ride from the center of the city, and the school.
Please note that we have limited the use of dorms to only students 18 years of age or older, for safety reasons. For students under 18, we still require you to stay with a host family