Gesshuku Ishiyama mother passed away
|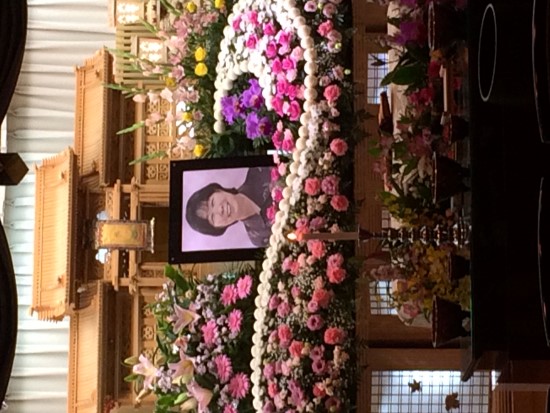 At GenkiJACS, we offer a few different types of dormitories for our students. One of those is the 月宿 (gesshuku), which is like the owner's house opened up into a dorm. Two of the gesshuku we offer in Fukuoka are 月宿朋 (Gesshuku Tomo) and 月宿石山 (Gesshuku Ishiyama). A lot of our students, in particular under-20 students, stay at these two dorms.
Traditionally, university and high school students often stay in gesshuku, and the owner, called 月宿のおばさん (Gesshuku no obasan) cooks and cleans for the students, and helps them with their problems. She acts as a kind of second mother for the students in her care.
On Sunday the 11th of December, the Obasan of Gesshuku Ishiyama, Sachiko Ishiyama, passed away suddenly from a brain hemorrhage. She was still young, and had seemed healthy just shortly before she was found in her room. It was a very sudden, surprising and sad event for everyone.
When we talked to her, she often said "I always worry whether we can take good enough care of students in our small dorm. It makes us very happy and proud when GenkiJACS students say 「おばさん、楽しかった!」(I had fun, Obasan!) as they leave." She was a warm-hearted and lovely person. Our accommodation coordinator Aya says that seeing how Ms. Ishiyama felt about her job made Aya feel more proud of her own job too.
The Gesshuku is run by the whole family, including Ms. Ishiyama's husband, son and daughter. They would arrange many events for our students, including taking them on day trips, BBQs, and others. The living room of the dorm was covered in photos of former students, and they loved to talk about what students are doing now. Gesshuku Ishiyama was exemplified by the care they gave to each student.
We used Gesshuku Ishiyama for younger students specifically because of the great care they gave to each student. Younger students who came with their parents to see the dorm first would often say, after eating dinner with the Ishiyamas, that this is where they wanted their child to live. Even with only limited communication in English, the essential goodness of Ms Ishiyama was easy to see.
At GenkiJACS too, we feel that we have lost an important and special person. The staff and teachers here know that accommodation is almost as important as the school for our students, and that our school is only a success because of the support of people like Ms. Ishiyama. We learn from her about Japanese hospitality.
Ms. Ishiyama, thank you for taking in so many of our students over the years, and for taking such good care of them. Now is your turn to rest. The thoughts of all of us at GenkiJACS are with you and your family.
GenkiJACS Staff representative, Yuuki Yamazaki
私たちGenkiJACS福岡校では、いくつかタイプの違う寮を紹介しています。その中で下宿というオーナーの家を大きく改装したタイプの寮があり、『下宿朋』と『下宿石山』がそこに該当します。GenkiJACSでもたくさんの(主に10代の)学生が『下宿朋』『下宿石山』に滞在してきました。
昔から下宿には高校生や大学生が滞在するもので、通称「下宿のおばさん」と呼ばれる方が、住んでいる人の食事の世話やお掃除、時に学生たちの健康管理までしてくださいます。住んでいる学生にとっては第2のお母さんのような存在です。
つい先日12月11日(日)に『下宿石山』のおばさん石山幸子さんがお亡くなりになりました。死因はくも膜下出血でした。
亡くなる寸前まで家族と団欒し、下宿朋のおばさんと電話で話し、その直後寝室で横たわっているのを家族に発見され、救急搬送されたものの、息を吹き返すことなくそのまま帰らぬ人となられました。
家族にお別れを言うこともなく、住んでいる学生たちと言葉を交わすことなく、突然の訃報でした。
私たちも、GenkiJACSの学生がお世話になっている時、またご挨拶などで下宿石山を訪れたことがあり、
その度に石山さんは「本当にこんな小さい下宿で、私たちは何ももてなすことができず、学生さんたちに不憫な思いをさせていないか心配です。GenkiJACSの学生さんが『おばちゃん、楽しかった!』と言って帰国されるのですが...それが私たちにとって大変ありがたいお言葉で励みになります」と言って涙を流される、本当に心温かい素敵なお方でした。
アコモデーションコーディネーターをしている彩さんは、この石山さんの姿をみて、自分の役職に誇りを感じたそうです。
下宿石山では、おばさんだけでなく、ご主人、息子さん、娘さん家族とご家族全員で、私たちGenkiJACSの学生を迎え入れてくださいました。
BBQやドライブなどいろんなイベントを下宿で行ってくださり、それらの写真をリビングに飾りながら、帰国した学生たちのことを話してくださっています。一人一人との出会いを本当に大切にしてくださる・・・それが下宿石山です。
滞在した元学生の中にはご両親と訪れ、おばさんの手料理を食べたり、おばさんのお人柄に安心され「次、福岡に来るときもぜひここに息子を預けたい」と言われたご両親もいらっしゃいます。言葉こそ通じないものの、それでも学生とそのご両親が安心してしまうほど、下宿石山のおばさんの存在は大きかったのだと思います。
私たち、GenkiJACSとしても大変貴重な・・・偉大なお方をなくしてしまったと感じています。
スタッフ・講師一同、石山さんのような方々に支えられ、学生を受け入れられていることをあらためて感謝するとともに、
石山さんが流された涙のように・・・日本人としておもてなしの精神をしっかり受け継いでいきたいと思います。
石山さん、本当にたくさんの学生が大変お世話になりました。そして長い間お仕事お疲れ様でした。
どうぞ安らかに休まれてください。心よりご冥福をお祈り申し上げます。
GenkiJACS スタッフ代表
事務局長 山崎有紀