|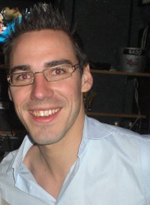 GUY
Age: 27
Length of Study: 3+ months
Japanese Level: Beginner
From: Switzerland

1.Why did you choose GenkiJACS?
I picked it through a Swiss language school website.
2.How was your first day of school?
It was very interesting. I didn`t know any Japanese but I felt welcomed, so it was very good.
3.How much have you improved since you arrived?
We`re going at a good pace.
4.What will you do with your Japanese after you finish with GenkiJACS?
I`m in the hotel management business. I plan to use Japanese for my job in Japan in the future.
5.What do you do during your free time?
Jogging, football, music, partying
6.What is your favorite Japanese snack/food?
Tantan men (Chinese noodles)
7.What is your favorite Japanese drink?
Kirin Strong Seven beer
8.What is your best school memory (so far)?
Early on, I did a hiragana test and got 0 on it. But today I was able to read the hiragana on the board so I was very happy.
9.What is something unexpected you found out about Japan?
Everyone is very kind.
10.Top 3 tips for future students?
– Learn hiragana
– Get a phone
– Choose host family stay, because it makes a big difference.