Interesting Japanese – Tsundoku
|
Here's one for the readers among our Japanese language students. Trust Japanese to have a slang word for a concept every avid reader understands very very well! That word is 積読 (つんどく – tsundoku).
The word is a kind of amalgamated pun.
To break it down, it consists of:
積んでおく (つんでおく- to pile up; to put aside for later)
読む (よむ – to read)
読, in this case, is pronounced "doku" (as it is in 読書).
And the でおく in 積んでおく gets shortened to どく (読), and forms 積読 (つんどく).
But what does it mean?
It's the act of buying books with the intention of reading them, but eventually letting them pile up on shelves/nightstands/etc unread. I know I'm guilty of that!
There are also some other interesting words that have come into being using 積む…
積み本 (つみぼん – tsumibon) combines 積む and 本 (ほん – book) to make…
You guessed it…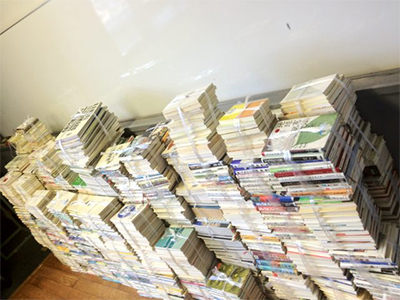 The pile of books itself!
積む and ゲーム become 積みゲー…

Japanese can be a difficult language to learn, but sometimes you come across word play like this that just makes it so much fun!
*Images are from Google and copyright belongs to their respective owners.