|
Today we're introducing a student here at school.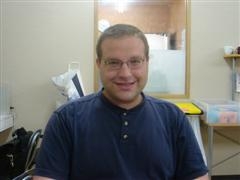 Q. Your name?
A. Joshua
Q.What were your reasons for coming to Japan?
A. Temples, shrines, Japanese history, anime & manga, Japanese cuisine
Top 3 favorite anime: Fullmetal Alchemist, Inu-Yasha, Darker than Black (violent manga!!)
Favorite Japanese food: sushi, udon, ramen (he ate it in Kyoto), rice, fish (even sashimi), teriyaki
Q. Where are you from?
A. Boston, in America
A closing message:
I have a long stay, but I'm enjoying my studies and my time here! (Everyone is friendly and nice, and the teachers are nice people)
He was very cheerful during the interview.
Joshua-san, thank you very much!!
[
Link to the original entry
]