|
Our Japanese language students are always surprised by the many Kit Kats flavors that are available in Japan. There's bound to be some you've never even heard of, so if you get a chance, try one! We haven't tried them all, so we can't promise they'll all be an explosion of delicious flavor, but here are some of the more interesting ones we've seen around:
Sweet Potato
Passion Fruit
Sakura Flower
Pumpkin Cheese Cake
Red Bean Paste
Apple Vinegar
Jasmine & Green Tea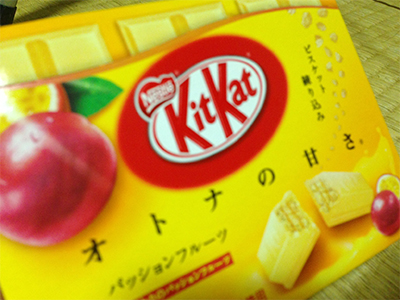 Passion Fruit Kit Kat…!
(Some flavors are seasonal and not available year-round).