New Japanese Plus Pop Culture Course!
|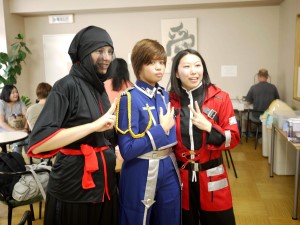 New for 2014, we've updated our Japanese Plus Pop Culture course to bring it into line with the Japanese Plus Traditional Culture course. Where previously the Pop Culture course had 5 hours of pop culture-themed lessons per week, the new course has three two-hour activities each week. The new course focuses more on learning about and enjoying modern Japanese culture. Of course, it still has the same 20 hours of core Japanese lessons per week, but the new activities include some really fun ones that we know you'll love! From doing cosplay to visiting a maid cafe, making realistic fake foods, and writing and drawing your own manga, the new program is chock full of great things to do!
As with the Traditional Culture course, the activities are on a monthly schedule, so the course can be taken for a maximum of 5 weeks. Where previously the Japanese Plus Pop Culture course had a minimum Japanese ability requirement, the new course is open to everyone. And where the old course was only available in Fukuoka, the new course is on offer in both Fukuoka and Tokyo branches.
We'll be continuing to improve the activities on offer, especially as we start to get feedback from students taking the course. It's going to be a great 2014!