|
We previously posted about cheap, yet delicious ramen in the Tenjin area. This time, we'd like to tell you about cheap, yet delicious okonomiyaki! Fukiya is an okonomiyaki restaurant that has several branches around Fukuoka, three of which are within walking distance of our Japanese language school!
They serve okonomiyaki from 400yen upwards, which is great value for money, as their okonomiyaki is really tasty, and they don't skimp on portions! A deluxe okonomiyaki (the "everything okonomiyaki" that has OVER 9000 ingredients) will cost you only 1,100yen.
Their menu is available online.
We recommend the Tenjin central branch, located on the ground floor of Fukuoka Biru, next to Tenjin CORE.
|
Today we had okonomiyaki.
It tastes different when you're learning how to make it as you go along!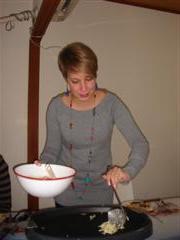 We were hoping for some leftovers, but it looks like it was all eaten…
Oh well…
[
Link to original entry
]