Our Favorite Japanese Movie: Casshern
|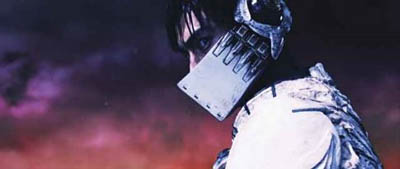 We'd like to take a short break from our hectic schedule of updates to this blog (did we manage even a single entry this week? No???) for a little film appreciation. Specifically, our most favoritest of all Japanese movies, Casshern.
Based on the 1970s anime "Shinzou Ningen Casshern", this film vies with Sky Captain and the World of Whatever for the title of world's first all-blue screen film (i.e. real actors, fake sets). It was a major hit within Japan (outside, not so much!), and is one of the few Japanese movies that could truly be called a blockbuster, costing over xxx to make, and with incredible CG throughout.
The story is fairly standard: scientist in 1984-ish near future tries to develop process to regrow and repair damaged bodies with the ultimate aim of saving his wife from her wasting disease, but fails until supernatural lightning strikes his lab and ignites a flurry of body parts to join into a race of mutant humans who are mostly but not entirely killed in a fit of panic, leaving the remaining few mutants to escape to a massive killer robot factory where they build an army of (wait for it!) killer robots with which to destroy humanity, or at least that's the plan until the scientist reanimates his own recently deceased son, who becomes a human-killing-mutant-killing machine with incredible powers. So, a lot like Titanic, really.
Anyway, the movie's story is convoluted, and told in a style meant not so much to evoke the frames of a manga as to literally recreate them with real people and movement. The backdrops to the action are stunning, as is the action itself. The soundtrack thunders away wonderfully (and if you watch a lot of Japanese TV, you'll often hear snippets of songs from Casshern used in a variety of situations). We guarantee that you won't catch everything or maybe even understand what the heck is going on the first couple of times you see it, but don't give up. Watch it again, with subtitles ON this time, and you'll pick up a lot more. The story itself has many themes, but the main one is of the evils of war and of warriors.
The film itself is often criticized as being a visually distracting mess, but the same could be said of Angelina Jolie, and yet we don't hear too many people complaining about her! And it can't be denied that it's not exciting ? the fight and flight scenes where our hero destroys army upon army of the aforementioned killer robots, or goes one on one with a mutant, are masterpieces of cross-media translation and visceral thrill. We show this movie regularly at school, and while there are always laughs at some of the slower scenes, everyone goes home happy.
Sadly, for Japanese study, it's not so useful unless you want to talk to people about killer robots.