Student lounge at Genki Japanese Language School
|
This is Aiko with Genki Japanese School.
I love to see students spending their time in the Genki Japanese School lounge.
Yesterday, some of the students were playing a card game called "Apples to Apples".
It was new to me and it sounded very useful for studying English.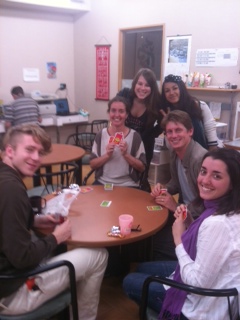 One of the students had an brilliant idea!
"Why doesn't GenkiJACS make a Japanese version of Apples to Apples?"
How about this Jamie-san, let's work on it and make loads of money!