Teaching Interns Visit From Fukuoka Jogakuin University
|
This week we were joined at Genki Jacs by four teaching interns and Japanese as a Second Language students from Fukuoka Jogakuin University, Ryoko, Hanae, Marie, and Kaori. They assisted our students with supplemental lessons, review, conversation, and great patience. The beginner students were assisted with building their vocabulary, while more advanced students enjoyed conversations with the interns.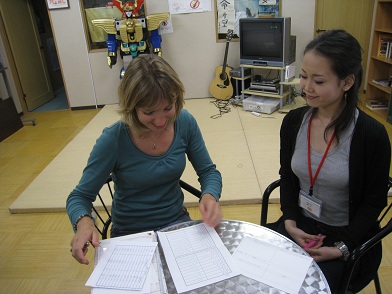 Between their lessons, I was able to interview two of the interns visiting, Ryoko and Kaori. I asked them about teaching, and about their goals and motivations for it. Both expressed enthusiasm for their field of Japanese education, despite its challenges, such as getting expressions across to students, or helping them to understand a grammar point, but like all true teachers, find satisfaction in those shining moments of success. They chose their field of Japanese education, because they enjoy their own culture, as well as other cultures, finding cultural exchange stimulating. As someone who studied at university Teaching English as a Second Language, I can readily relate to their feelings, and hope to follow the same path. They wish to experience other cultures, but perhaps think starting that following their graduation this year, it may be easier to start out here in Japan, so perhaps they will stay here in Fukuoka to teach at Genki Jacs in the future.


The students at Genki Jacs seemed to enjoy their lessons and conversation with them as well, and perhaps were able to advance their studies in Japanese further yesterday thanks to help from Kaori, Marie, Ryoko and Hanae. Mata ne interns, and arigato.