Tokyo-Fukuoka flight route
|
It seems like we really picked two great locations for our Japanese language schools!
Recently, traffic between Tokyo and Fukuoka has really been picking up. In fact, the Haneda-Fukuoka route is
listed as the 7th busiest flight route in the world on Wikipedia
), right below Tokyo-Osaka!
Add in Narita to Fukuoka flights too, and the Tokyo to Fukuoka route is really popular. According to Fukuoka Airport's page, there are about 144 daily flights between Tokyo and Fukuoka.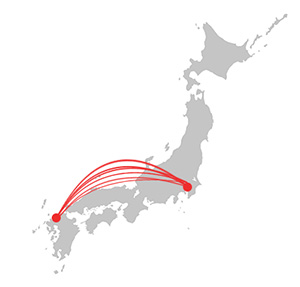 Speaking of travelling between Tokyo and Fukuoka, airline Jetstar are offering really cheap flights on this route at the moment. We've posted about this before, but in case you haven't heard the news yet, you can travel from Fukuoka to Tokyo for about ¥5,000 one way!
This makes travelling between the two cities cheaper and faster than by the other popular travel methods (night bus or shinkansen), so it's no wonder the route's become so popular.