Today we will share our top 8 Fukuoka hotels with you. Because in order to study with GenkiJACS in good conditions, your stay also has to be comfortable! And while the school does provide accommodation if you want us to organize this for you, you could also decide to organize it yourself. (for our accommodation, check: https://www.genkijacs.com/compare-accommodation.php)
Before we start, we want to make it clear that, none of the hotels we are listing here are paying us, and this list is simply created based on our experience in Fukuoka, the return we get from students, and what we see online. The prices we are giving are also an average, and will change depending on seasons.
From cheap to cheaper, check those Fukuoka hotels and find a place to stay when you study with us.
Of course, we will not claim that we listed the cheapest hotels of Fukuoka here. In the age of internet, it is always possible to find something cheaper, or a flash sale. However, this list will regroup great deals that have at least some standards when it comes to your comfort.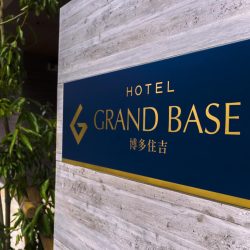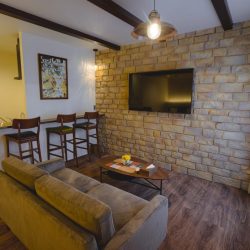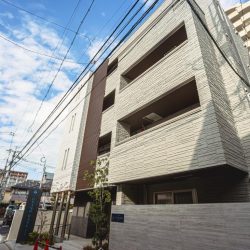 Located right next to the main station in Fukuoka (Hakata), this hotel is actually more an apartment than a traditional hotel. Guests there really enjoy the spacious room. Since it is Japan, you can also expect the place to be spotless. Because it is not a traditional hotel, you will have a kitchen. This means that you can buy groceries and cook for yourself. This is always a good thing when you are on a budget! Finally, being centrally located also means that you will have all the necessary shops around you. Perfect to discover Fukuoka!
We liked:
Within a 20-minute walk from the school and 10 from the train station
Apartment setup, with a kitchen
Modern design
Average price: ¥63,000 for a 2-week stay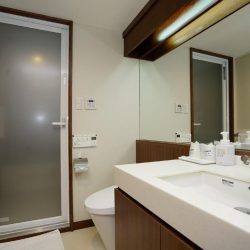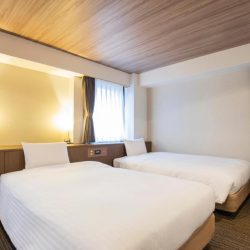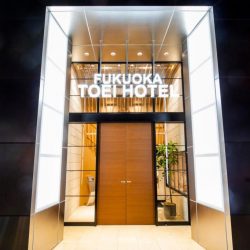 This time, we are talking about a traditional Fukuoka hotel. Located in the Tenjin area. A great setup if you want to study during the day, and enjoy the nightlife after school. Perfect if you also enjoy shopping, as it is right next to the main shopping district of the city. Often praised for its services and the breakfast buffet, this hotel also doubles as a coffee shop. You might also enjoy the Italian restaurant on its ground floor.
We liked:
Located in Tenjin, it does not get better than this
Very cute coffee shop on the ground floor
Recently refurbished so very clean and modern
Average price: ¥65,000 for a 2-week stay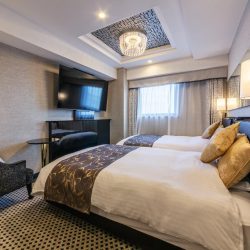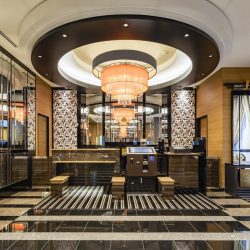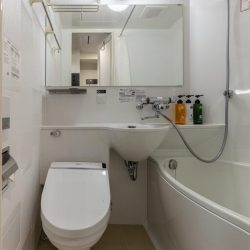 Another traditional Fukuoka hotel. This time located in the Akasaka district, one station away from Tenjin. Akasaka is a quieter district, close to the biggest park in town (Ohori park). Ideal if you want to mix city life, good restaurants and nature at the same time. The hotel has smaller rooms due to the premium of the district. However, being well-organized, it means that it includes all necessities for a great stay.
We liked:
Located in probably the best district of Fukuoka
Cheap for the location
Close to Ohori park, an amazing park!
Average price: ¥69,000 for a 2-week stay
Maximum comfort, experience the luxury some Fukuoka hotels can offer
Below, you will find the cream of the crop, the best hotels Fukuoka has to offer. You have saved for a while to make sure your stay in Japan would be unforgettable? Or you are just used to travel and stay in high-class hotels? This list is for you.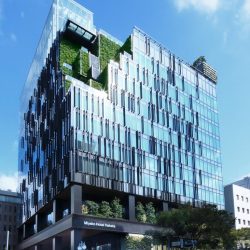 This is one of the newest hotels in Fukuoka. Completed at the end of 2019, you will be located less than a 5-minute walk from the school. It is also directly connected to the train station. Discovering Fukuoka and eventually Kyushu has never been that easy!
We liked:
It's hard to get a more convenient location
Tons of things to do in the hotel (onsen, spa, etc.) and the pool on the roof!
Amazing breakfast
Average price: ¥323,840 for a 2-week stay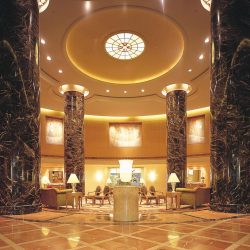 Did you say indoor swimming pool? Yes, and gym too! The Okura chain is famous for providing luxury hotels throughout Japan. Fukuoka is no exception, and you will find all the standard services one could expect staying in a luxury hotel. Located in the Hakata Riverain, a shopping center with more than 70 shops and restaurants, and 2 museums too! Unforgettable!
We liked:
The indoor swimming pool
Located in a shopping complex and also in a great part of town
Their famous sushi restaurant
Average price: ¥250,000 for a 2-week stay
Find the balance between price and comfort with these Fukuoka hotels
We will close our hotel ranking with the hotels we feel balance a good price with a great experience. Of course, this is the category where you will find most of the hotels, so there were a lot of hotels to choose from. We could go on an on here and list 15 hotels, but we will only list 3 here.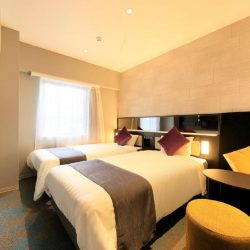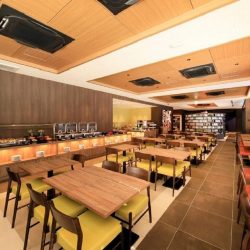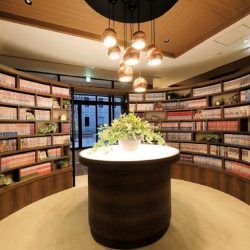 What makes this hotel special you ask? Well, you might have noticed with the photos above already! Yes, they have plenty of manga and books in the hotel that you can borrow. Study Japanese during the day, read manga at night! All of this, right there in Tenjin, the shopping district of Fukuoka. Ready to book them already?
We liked:
Obviously, the manga!
Comfortable rooms
Great service
Average price: ¥115,000 for a 2-week stay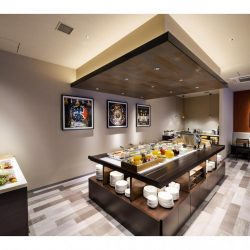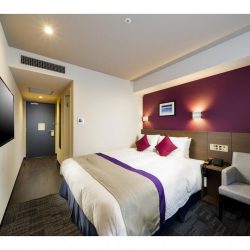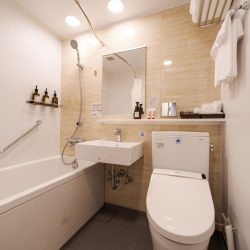 This American chain of hotels is also here in Fukuoka, and the hotel itself is quite new. This means that rooms are pretty spacious and of course very clean. Being in Tenjin also means that you will be close to all shops and restaurants you can think of. Ideal for a mix of studying and shopping.
We like:
Modern hotel
Large rooms
Fitness center
Average price: ¥98,000 for a 2-week stay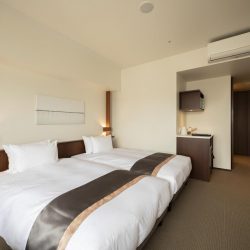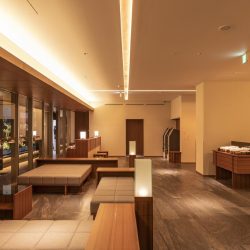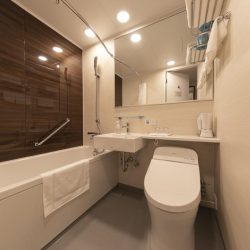 Finally, another hotel in Tenjin, making it very convenient! Situated close to 3 stations, it also means you can explore the city at will. You will be a 10-minute walk from Canal City as well, the most famous shopping complex of Fukuoka! Often ranking amongst the best hotels in Tenjin, you cannot go wrong with this one.
We like:
Staff speaks great English
Large rooms
Great location
Average price ¥185,000 for a 2-week stay
Conclusion
We hope this helps you find a place to stay in Fukuoka while you study with us at GenkiJACS. Of course, if you find better deals or want to recommend a hotel that you stayed at while in Fukuoka, let us know in the comments. Hopefully this will helps other students thinking about coming to Fukuoka and have a great time!
If you are interested in studying with us, you can also fill our estimate-request form (it's free!) and we will get back to you within 2 business days! The form is here: Study in Fukuoka. See you soon in Fukuoka!