|
A very belated congratulations to former student Peter Gee, who was married to his Japanese fiancee in Fukuoka in December! He gave us permission to post his lovely message and photos, so here they are: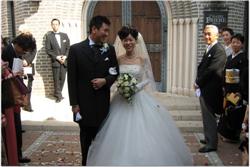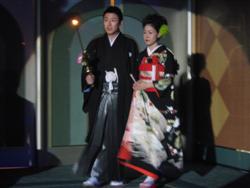 Hi Everyone!
These are a few pictures of my wedding from last Saturday in Fukuoka. The ceremony was beautiful, my wife was even MORE beautiful.
We had a ceremony in a chapel at first (all of the orders given in Japanese, of course), then we had the reception filled with speeches from family and friends to wish us luck in the future, followed up by the nijikai (second party), and a sanjikai (third party). Unfortunately i broke my promise of controlling my alcohol intake by the end of the san jikai and was really drunk. Lucky for me, my wife is very forgiving.
Anyway, I wanted to say thank you again to everyone for making my experience at Genki JACS so enjoyable. The flowers on my last day and the card were so thoughtful.
Thomas-san: if I ever visit Roche in Basel i would love to visit you =) Good luck in Switzerland and I hope you had a nice flight home.
Makus-san: I have no doubt that you will find a Bijin in Fukuoka. Going to rainbow plaza will speed up the process exponentially, trust me! Please be nice to the teachers and no chair throwing!
Patrycja-san: Enjoy your time in Fukuoka until March! It would be cool if you become a translator for Japanese to Polish and vice versa.
Mitsuko-san: You`re leaving soon too aren`t you? I hope you`ve fully recovered from your cold by now and are enjoying your last days in Japan until you go back.
To all of my energetic and helpful teachers: The fun atmosphere you created in the classroom and the natural way you all taught Japanese was exactly what I was looking for in a Japanese school. I am sorry I won`t be able to stop by the school with my wife before I leave but I will be sure to say hi the next time I am in Fukuoka.
Take care everyone,
Peter