Festivals coming up in Fukuoka!
|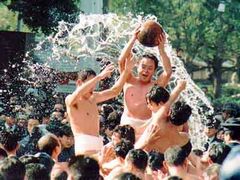 Japan loves its festivals, and Fukuoka is of course no exception. Here's what's coming up (info excerpted from a very helpful post to the Fukuoka JET website:
January 3: Tamaseseri at Hakozaki Shrine
A New Year festival held to wish for a good harvest. Two groups of men in traditional costumes fight for a wooden ball.
January 7: Oniyo at Daizenji Tamatare Shrine
A shinto ritual to expel evil spirits, one of the three largest fire festivals in Japan. The highlight of this festival is Taimatsu-mawashi in which three hundred young men in loincloths twirl six huge torches with scores of oak poles one after another on the grounds of the shrine. Each of the torches is one meter in diameter, thirteen meters long and weighs one ton.
January 7: Usokae & Onisube at Dazaifu Shrine
People who have come to the shrine exchange kiuso, wooden bullfinch dolls, with each other. Then, for Onisube, people try to drive away a devil with smoke and sparks emitted from large torches.)